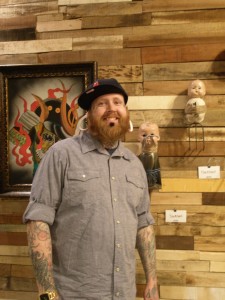 Tim Atwell – Thank You for Your Support!
"Hi, this is Delicious Ink Tattoo." My tattoo research began in the yellow pages of the phone book. I began calling tattoo shops in my area to see if anyone knew of Milton Zeis. It only took my second phone call to find a very enthusiastic and knowledgeable tattooer. His name is Tim Atwell.
Tim has helped to support me and The Zeis Studio from its re-inception in 2007. He helped me to understand the tattoo community, the lingo, and of course tattoo history. When Tim went to tattoo conventions he allowed me to join him at his booth. Without him I wouldn't have been able to share with all of you.
So today, I just wanted to say thank you, Tim, for all of your hard work and helping me to understand my family history and getting to know tattoo artists and their world. We've had a lot of great memories over the years and I am grateful for that. Cheers to many more years to come!