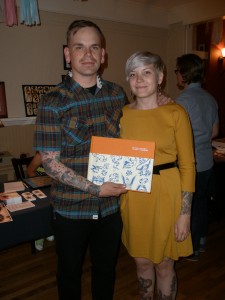 Happy New Year!
Every year, at the beginning of the year, I like to reflect on the previous year and plan for the following year. In 2012, The Zeis Studio got its own website and blog, which I am very happy about. We also had an exciting time out in Denver, Colorado for the book release, "Tattooing as You Like It: The Legacy of Milton Zeis."  The Zeis Studio also acquired back more original artwork and the collection became ever more intact. Overall, it was a positive year and I look forward to 2013.
While I am sad and apologetic that more was not accomplished in 2012, I am excited for future collaborations and plans in 2013. I remind myself that The Zeis Studio is a hobby of mine and in remembrance of my great-grandfather, Milton Zeis. So in 2013, I plan to archive the memorabilia left behind by Mr. Zeis and the tattoo community and share my progress with all of you. I would appreciate your support and feel free to nudge me along in the process. Sometimes I get caught up in my "busy" life and could use some help getting back on track. 🙂 Also, I would like to be in another tattoo convention. Do you have any suggestions on conventions that would be good to go to (let me know in the comments below)? Any suggestions on what you'd like to see from The Zeis Studio in 2013?
How about you? What do you see yourself accomplishing in 2013?